Hello everyone!

The more things change the more they stay the same… a new day that looks and feels like the one before and the one before that….But I think I have a solution to help you get to the next one with a little kick in your step. To those of you who are sheltered in place somewhere south of here in Port Stanley, Ontario, count your sunny blessings! I know you are kicking it up on beaches and under toasty sunny skies.

Before getting to The Long & The Short of It, I must digress for a moment.
I don't know about you and I am not getting into politics here but I would be remiss if I didn't tip my stylish hat to the new administration residing in the White House, to one of the most beautiful, thoughtful, seamless, meaningful, diverse, impactful, symbolic in its style inaugurations ever witnessed (and I have seen them all), to the evenings Inaugural Celebration that truly was for the people, by the people, including the people received by the people. My heart lifted, my shoulders dropped and again I saw bright lights at the end of a tunnel I hadn't realized had darkened. Hope is a wonderful thing and I 'hope' you'll join me here in holding on to that.

As I look for ways to refresh my client's wardrobes, their online presence, overall attitude about getting dressed these days, I am in so doing for them what I practice myself. Start at the top of my head and work down. Find somewhere to make a change, small or not, and just do that. These changes can be subtle or if you feel like taking it on, do so. In the end, I know you will feel better. Not only because it's something fresh and new but because for a while, when you were planning, you were distracted from the news and numbers and could just exhale a little.
For me, I have decided that earrings are something I am going to wear again. Working so much online, with half the real estate to decorate, I too have had to think of ways to show up inspiring and move away from predictable.
I "hope" you will find inspiration somewhere along the way.

HEADSTUFF
All too often we adorn ourselves and forget about the under layer — our skin. How about adding some radiance to your face? There are so many companies out there competing for our attention. Search for what you need. I love that other big name brands have evolved into serving us with what we need now. Stella & Dot fans, check out their new line of Ever skincare products here.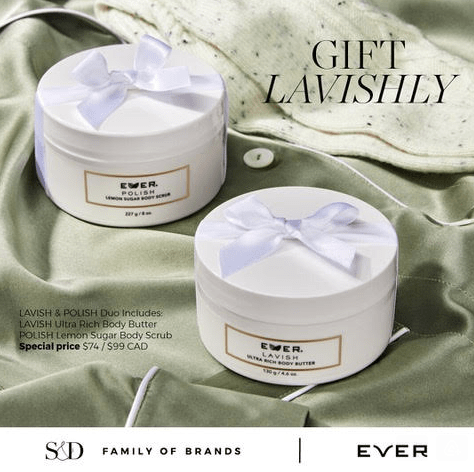 I'm really thinking….. thinking Canadian that is. I'm thinking of ethical practices, cruelty-free, recycled packaging. Our planet is hurting. We can all do better.
Here are a couple of brands that I am LOVING and the fact I am taking the time to treat my face to these every single day. #pandemicpositive

OBMNatural Made in Ontario. Pure heaven.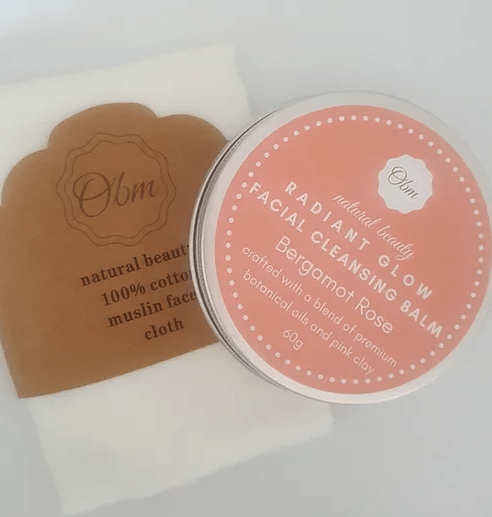 One Love Organics made to lessen the toxicity levels in skincare products. The wash is divine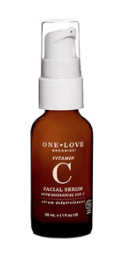 Try a new doo— without going to the salon, cuz they're closed. How about adding a headband or creating one with a scarf? Put it on, add makeup and a sassy earring or none at all! This easy tip will refresh and have you in fine focus with your audience. Even if it's just your mirror.

Remember scrunchies? YUP, they're a huge thing these days and people are loving them because they get your hair off of your face. Check these out, Canadian made and hand sewn oversized scrunchies, in cotton or organza, available at www.lofthouseliving.com. Stylish in a minute and what an easy way to showcases your earrings.

If, like me, you have been a necklace and bracelet gal, try earrings. I had shied away from them for a couple of reasons, huge wear and tear on my lobes from wearing them long and heavy over the years. And with my hair, they don't show up much. That was then and this is now. The long and the short of it – I was starting to bore myself. That's not a good thing especially when your job is to inspire style.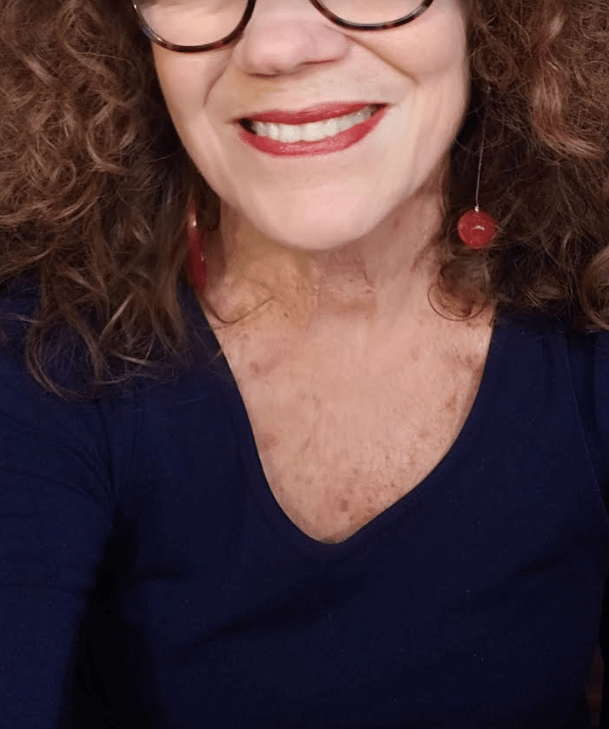 These are my current go to brands for fun, fresh & Canadian designed earrings.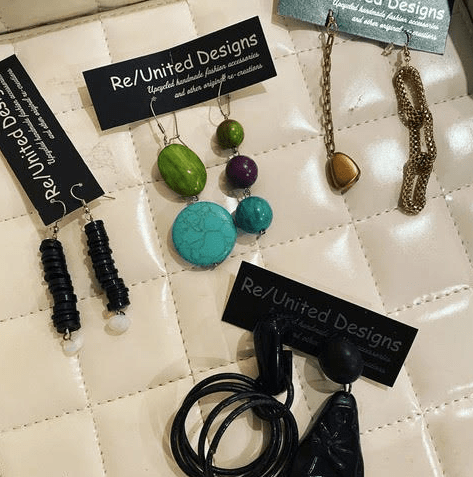 New lipstick. I have said this before and I am saying it again. Once you start wearing a lip shade that wakes you up, you'll never go back. This is an immediate way to refresh your look especially online but not exclusively. #Truth – sometimes it's all you need.
My favourite Mac lipstick was flat out empty, even digging into the tube with my lip brush but the last time I ordered from them is was a 6 week ordeal – not sustainable. The hunt began for more accessible, more organic and ethically produced lip products. I asked some of my image peers who are skilled at makeup artistry and the brand CHEEKBONE BEAUTY came up several times. Voila. You can see my first order below. I love it!! And it arrived in 2 DAYS! The matte is hydrating, has long staying power and is exactly what I expected. Made in St. Catherines, Ontario, and I am supporting indigenous youth. #WINWIN
Check out CHEEKBONE BEAUTY HERE!



UPPERBODY

Think pashminas in beautiful colors, prints and patterns floating across your shoulders and draping beautifully down your chest, over top of your workout tank! This wardrobe piece add such a lift to any top you're wearing and if your space is cool, warmth is that extra bonus. This stunner from re/united designs. Here are a couple of her new ones, just in time for Galentine's or Valentine's day! Check them out Here!

Neckerchieves are just so cute, less bulky than traditional scarves and can add an easy punch if necklaces aren't your thing or you want something a little different. The benefit- they are easy to store, work with most any top and are very price friendly. This one is by Chan Luu (square silks) – the brand is sold at Saffron Rd in London. Check it out here.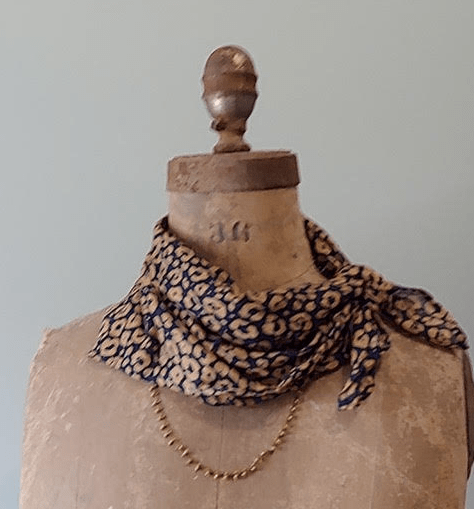 NECKLACES of course always make a statement but these days it isn't all about size. It's about strategic and personal. And layering.
These two make an impact. Why? They are unique in shape and add color. I love the black chain that says strength and unexpected to me with the enlarged closure and the blue stone says bright, cheerful, organic.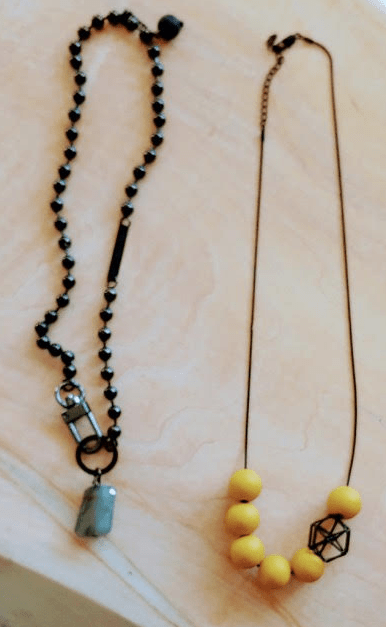 I always love layering because it adds visual interest and an element that is unlikely to be duplicated making the creations unexpected and YOUnique.

TOPS try something new, a patterned blouse, a sweater with color blocking or a graphic tee. Move away from solids. That's easy. You're up for the challenge right? Sure you are. These ideas are easy and interesting.
One of my fav Canadian teeshirt designer is found here. Interesting, excellent quality and I love how she features special noteworthy women across our times. I think these are a wardrobe staple but that's just me. www.suziroher.com Think patterned or print blouses. If you have some beautiful ones you are waiting to wear, like this gorgeous silk one here, pull that out and wear it now. The long and the short of it … You always have the opportunity to make an impression and be an inspiration. Think about that and be of service to your peeps in that way.

Other Stuff
Let us take a minute to think about what we truly love. What makes you feel happy, hopeful, lighter? What do you or can you surround yourself with that has that impact? I'll share. For me, I love fresh flowers all year long. When I walk into a room (all over my home) and there is a bouquet, which could be three branches of something, I smile. It's actually an involuntary reaction. So I buy flowers all throughout the winter, especially THIS winter.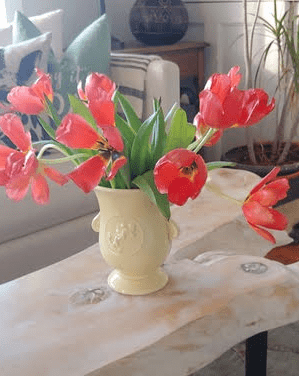 I also love fragrances that are earthy or remind me of summer days in the garden or after a rainfall with those scents lofting soothingly around. I find them in my perfumes and candles. (I wear perfume every single day.) Candles are always lit when I am working, making me feel refreshed and inspired. Anything with vanilla, lavender, patchouli and or bergamot notes, well I am in heaven, almost swooning. I love this soy brand, Forest City Candles, found right here in Port Stanley, Click Here!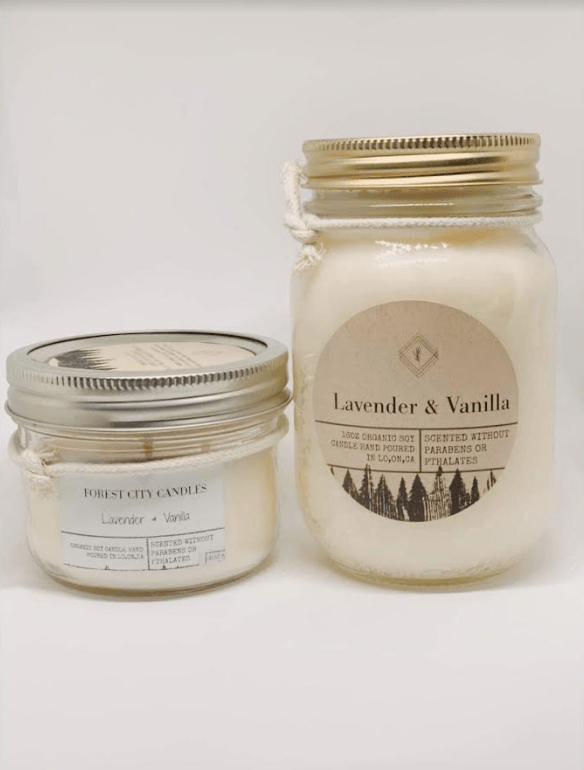 Soaps and Bath Salts oh my goodness. My client and friend Jennifer Kirkham has the most adorable black Lab, Blue is his name. She is also very organic and lives a healthy lifestyle in every way. When she started making shampoo bars and hand soap, under the label Blue Dog Soap, I was elated. I have to say I love her products. When I lather my head with her beautifully scented bar, it is truly luxurious. I heard she had a very busy Christmas season so stay tuned here for her spring refresh. Such a treat receiving her parcel in the mail!! Check them out here.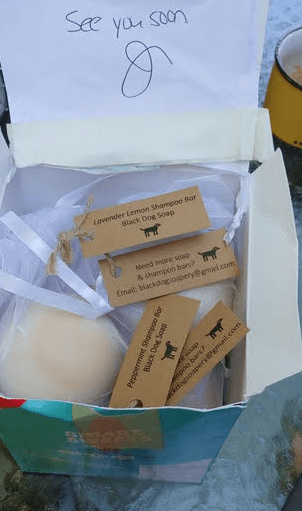 In closing, I am truly hoping that my ideas here will inspire you in their simplicity while guaranteeing you a return on your time invested.
I would love to hear from you if anything here resinated or if you tried something, make sure to comment on my blog.
Until next time, please stay safe and double up on wearing your masks if you are out and about frequently.
Cheers, Sue