It seems there's another elephant in the room. Let's talk about it.

Wearing a mask.

This is by no means a debate or a judgement piece, this is about wearing a mask and how to do so confidently.

Those of you who know me, know that for the last several years I have worn glasses full-time, if it isn't my regular glasses, I am sporting my prescription sunglasses.So when all of this happened and masks became part of the dressing equation I, initially, was concerned about how that would affect me, wearing glasses & sometimes claustrophobic tendencies.

Until I was wearing the mask regularly did I encounter other problems. And learn a thing or two. Ready?

Fogged up glasses does not send a strong style message. Nor is it good for your peace of mind and calm. This happened to me when I was happily going out on my first excursion since all of this started, to my favourite place to linger, a nursery. Well, add the significant heat in this type of space and you can tell what kind of experience I had. Nope, not funny nor fun. I could not wait to get out of there and get my mask off. To be quite honest, I couldn't even tell you what I purchased that day, how's that for a fun outing?

Take away #1.

Remain calm. Extra breathing does not decrease the amount of fog on your lenses.

Check the fit of your mask to make sure that it fits securely across the bridge of your nose. This reduces the amount of fog. Investing in masks with wire bridges has been the best thing I've spent money on lately. Oh, and don't talk too much. The condensation is suffocating.
Again, those of you who know me know that I am social, just a little. I love going out and having dinner or a snack and a glass of wine on patios. Especially where I live, here, on the lake.
A couple of weeks ago, just for something different and fun one evening we decided to give it a try. Off we went. When the young lady, our server, stopped at our outside table, along the water, far away from others, [strategically selected] she leaned in probably 12 inches from my face. Struggling to back up because there was really nowhere to go I, finally, put my hand out and politely asked her if she'd step back. …..Just a little bit. I also suggested to her that she put her mask up so that her nose was covered.Fun outing number two. Not so much.

Take away #2

Plan for the worst that could happen. In this case I did not have my mask in my purse. It was back in the car. I did not think I would need it being outside, far away from others except, perhaps, our server, who I knew would be masked &.. ..distanced

Carry an extra mask in your handbag or maybe even two.

How delighted was I that some of my favourite people, all of whom I hadn't seen for several months, were willing to meet for coffee at a local coffee shop. Of course this was an opportunity to put on some fun clothing, put together a great outfit head to toe because I wasn't going to be on a Zoom call where no one could see me from the waist down. Perfect.I always glance in the mirror front, side and back, before heading out anywhere. I, however, did not look in the mirror with my mask on. I mean, I would never have thought of that. But I should have.
Although this may sound ridiculous to some of you , it matters to me since this is what I teach my clients, how to put together outfits so you feel your best. This isn't about vanity, it's about walking the talk. Well, my selection of masks at that time was not a selection at all. I had a box of the paper blue ones that everybody's wearing, not a problem they do the job. And I had another one kind of patterned, in happy colours. Well, I caught a glimpse of myself walking up to order my coffee in the window and to be honest I startled myself. What a ridiculous outfit. I had to laugh….   after all I was wearing a mask. But i needed to do better.

Take away #3

We are going to be wearing masks for a while. Yes, they cover up your lipstick and for those of you who love lipstick, like myself, wearing a strategically selected mask can be fun and can actually add the punctuation & style to your outfit Somewhat like your lipstick does, somewhat not quite, but you get my point.

Take some time and select masks for yourself that suit your style, that work with the colour palette of your wardrobe and if you are a lipstick lover invest in red, pinks and or combinations of both so that somehow it feels familiar.And if you are really serious about looking coordinated when wearing your mask, and I know a lot of my clients are expressing this to me, then have them where you get dressed. And, look in the mirror!

Here are some I had designed by my image & color expert friend and colleague, Bernie Burson. Keeping my wardrobe palette, coloring & personal style in mind – perfect. Love them.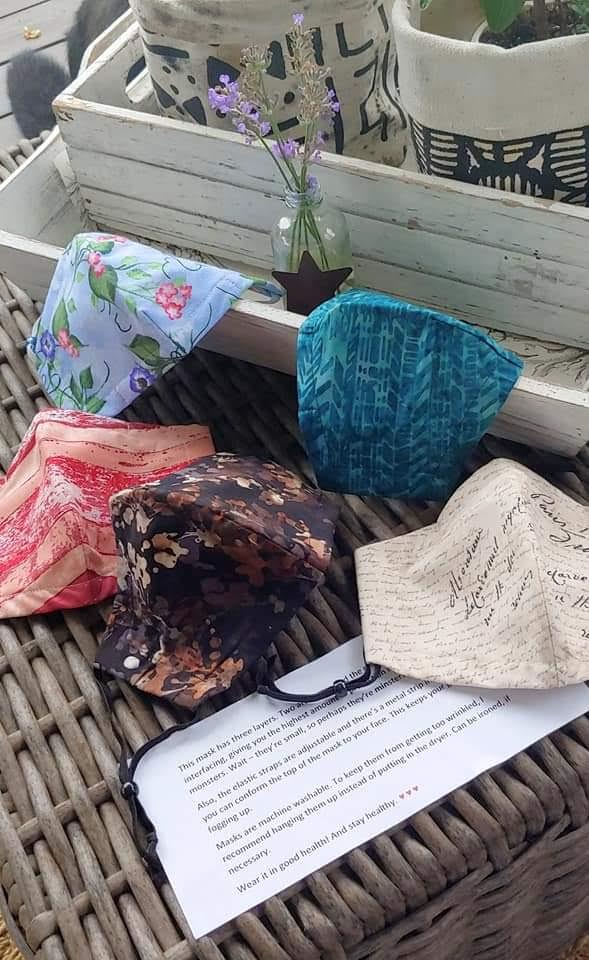 [Triple fabric, bridge wire, toggle straps] **your color palette available via a fun complimentary Zoom meeting ~ with me or without!! $20 USD each bb@bernieburson.com

Last fun outing.
Pre covid, I was a regular at a pristine nail bar in the city. It had been 6 months since I'd had a manicure and my hangnails were howling. Our spa here had just opened up so I booked an appointment after making sure of the protocols they had in place. I'd never been so this was a perfect first.
Seated, comfortable, nail color selected.
In walks a woman, carrying her mask, complaining how she had been at Costco & how crowded it was.
I'm on alert.
I motioned to my manicurist that she wasn't wearing her mask. " Oh, she'll put it on" and kept working. As I glanced her way, she waved (hmmm I'd never laid eyes on her before) and blared across the salon, " Now, if i had a pretty mask like yours, I'd be eager to wear the thing!" And she whips hers off the table & there it goes. Into her pedi water!!! She pulled out another "thing" & settled down for her spa treatment.

Take away #4
Putting some thought into your mask is something to consider. I felt great being complimented on mine.
Why not add some pizzazz to your mask if that's you?
Sparkle, plaid, sequins.

My Aussie stylist pal here Suzanne Dekyvere, [Instagram influencer, dramatic style personality] does just that. Why? Because it makes her feel good & her words "Dressing now, more than before, lifts me up."

Gets yours here: @margarette_ louise on instagram

In closing, #MaskingIt for me is working. I've got it down pat.
Two fresh ones in my car, an extra in my bag.
Fogging under control. 
Toggle straps for the win & Lipstick resemblance covered for now. (thanks Bernie) 

I'd love to hear from you. Are you having fun with yours, yet? Are they strictly utilitarian at this point like mine were? Send me a photo. I'd love that.

If you would like some help picking masks that honour you, flatter your colouring and communicate your personal style, reach out.
Let's do this!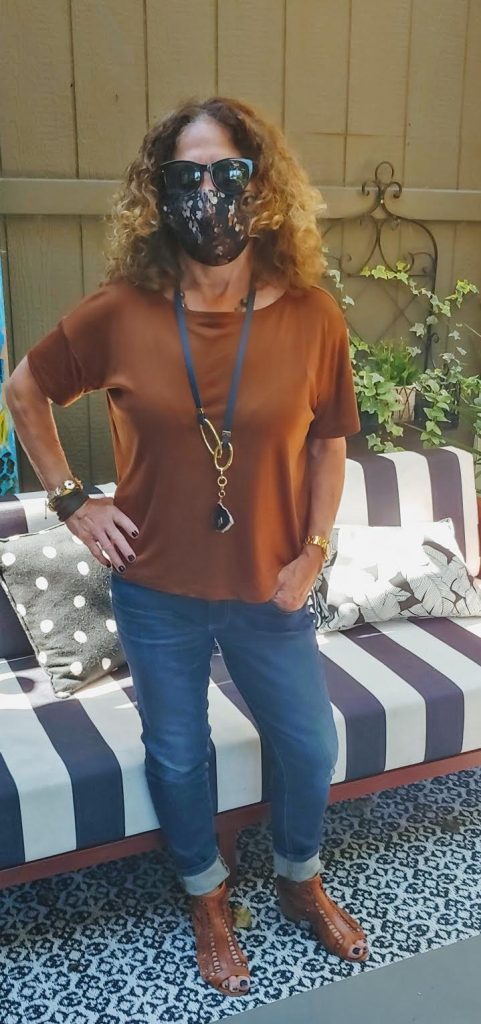 Resources:
I can suggest & stand behind the masks by Frank Lyman, Canadian fashion designer, as I've seen them, ordered them. Excellent fabric & fit. Reasonably priced & choice of print.

1. Shop.franklyman.com
2. @margarette_ louise on instagram
3. bb@bernieburson.com. (mine)