Completing a winter outfit with the right accessories can be tricky, especially now. Most of us are not going too far and could probably care less about this aspect of dressing BUT hold on a minute.

Accessories make your outfit come alive
Add your personality
Show the fun factor
Add that dash of wow
Are you listening yet?

It's colder, you're dressed warmer, more skin is covered, you are out doing some errands agreed but there is still room for accessories. How can you showcase accessories without them getting lost in your layers? Here are ways to highlight your face, add impact to your outfit and add polish to your colder weather outfits.
YOUR FACE
Your face won't be covered up so let's be sure attention is heading there. This is the communication centre and many of us are seeing lots of faces these days, some closer than we'd like to and your face is being seen more too so…….

Here are my ideas:

Strong earrings.
Clustered jewelled, or sparkly, crystal earrings, swinging tassel or exaggerated statement earrings or a thicker hoop (in your best metals) are good choices. They will bring even more attention to your face when you have short hair or you're wearing your hair back. Don't forget to add some color here if part of your image goals is to say "I am fun, alive and exciting!"
Hats & Head Coverings.
These can add a dramatic mystique to a winter outfit (inside and out). If your style personality is dramatic creative hats are something you should seriously consider. People love them on others. You may just be an inspiration! Tired of bad hair days and rushing to make the best of it? A turban can solve those issues. They are stylish and can really add that wow factor.
Great lipstick color.
A pop of color now is such a treat— when on Zoom meetings you can wear a fabulous bold or 'new for you' color' because again, your face is in front of many. This is a perfect time to experiment with new colors and try them in different social settings. Get some feedback from your gal pals and feel better seeing your reflection as you walk by the mirror! Deep berry colors, bright red or fun fuchsia shade will add excitement to your online outfit. Make sure you get the right shade for you.

YOUR NECKLINE
Your neckline is an easy area to adorn in order to bring more focus to your face.

Here are my ideas:

A scarf.
This accessory adds character depending on your choice of print, pattern or color, plus it adds an additional layer of warmth in drafty office spaces. Choose one in this season's bold reds or jewelled tones or find one in a dark floral print or a non-traditional plaid. You can also layer two oblong scarves – one in a print, one in a flattering solid color – for an interesting look. Online dressing makes some scarves the wrong option IF they muffle your neck. *Style Tip – Pulling it away from your neck, creates a V communicating your openness and ensuring you are the main focus, along with, not instead of, your gorgeous scarf. See the soft V below here? Perfect!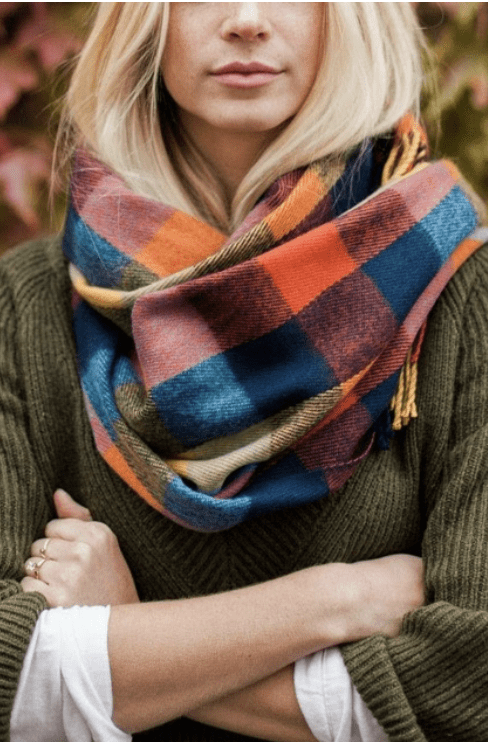 Collar / Choker / Statement necklace.
Add a pearl or jewelled collar necklace to the top of cashmere sweaters or at the neckline of a minimalist high-necked sweater dress or your collared blouse. This extra touch adds interest, drama or a hint of femininity. And when in doubt, just go BOLD!
Bare skin.
A deep, wide, or asymmetrical neckline on a dress, sweater, tee or blouse adds unexpected drama in the winter. The exposed skin can be all the accessorizing you need for some audiences. A tiny necklace can work here adding intrigue, finish and being an eye breaker.
But have a scarf or complimentary cardigan on hand just in case you need to cover up for warmth.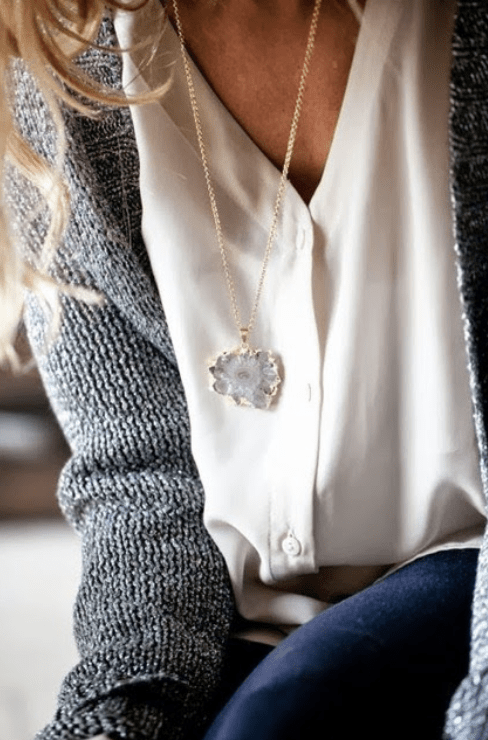 YOUR HANDS & ARMS
We're often waving or gesturing as we express ourselves. Why not adorn our wrists or the parts of our hands and arms that are exposed?

Here are my ideas:
Gloves
Long or short gloves in bright, bold colors or animal print patterns are functional for cold weather so when you ARE out, have some fun (especially with ¾ sleeved jackets). If your style is more urban chic these popular fingerless gloves work for typing, texting and add a dash of warmth if your workspace is chilly. Online, wear them and express your individuality.
Bangles / Timepiece
Bangles or metal cuffs are a great addition when wearing long-sleeved tops, knit dresses, jackets even coats with sleeves that hit just above the wrist. Mix metals in multiple loose bangles or create a cuff at your wrist that's a combination of all your favourites – jewelled, beaded, studded, exaggerated. Roll your sleeve up, just a little, for added impact and be sure to wave your hand around in front of the camera!!
Hands & Nails
If you have neatly trimmed or manicured nails, this is a great time to show off your ring collection BUT remember ONE statement ring says more than 3 rings on the same hand. If your style is minimalist and you like the new layered ring trend, this makes for a fresh, classy online presence.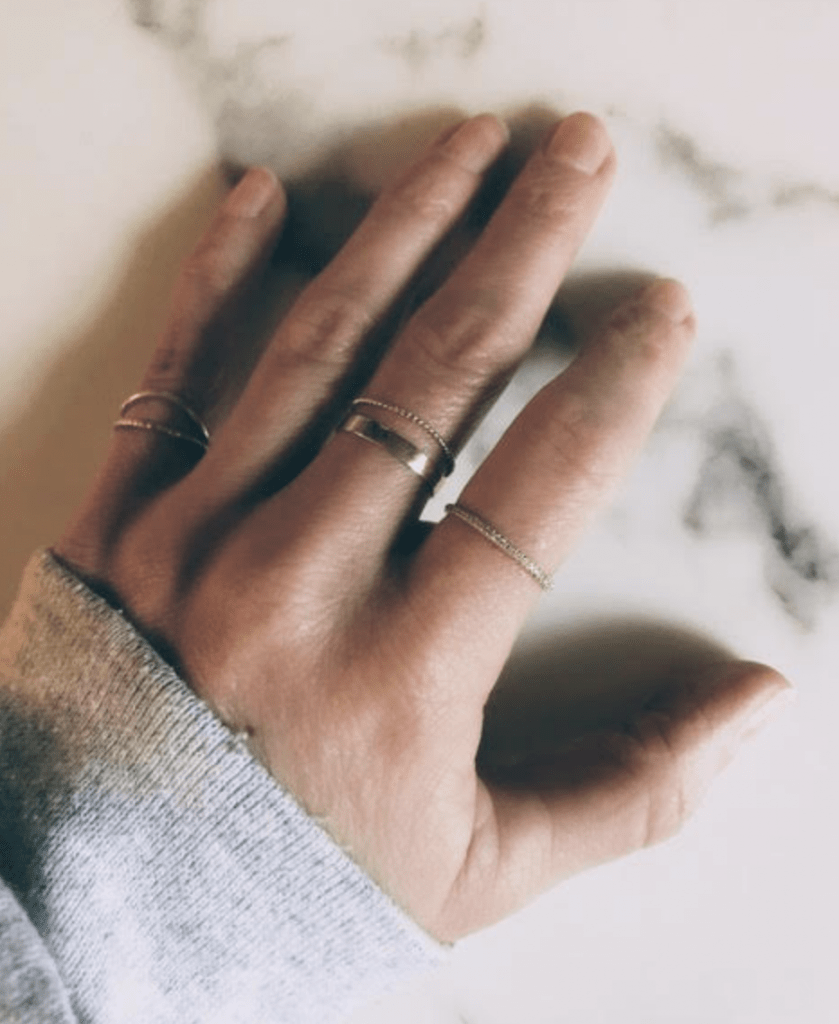 IF you are talented, and unlike me at giving yourself manicures, go for it. Use a fun color, be different everyone needs and appreciates more fun these days. *Image Tip – Keep your audience in mind: if at work, make sure your look is professional.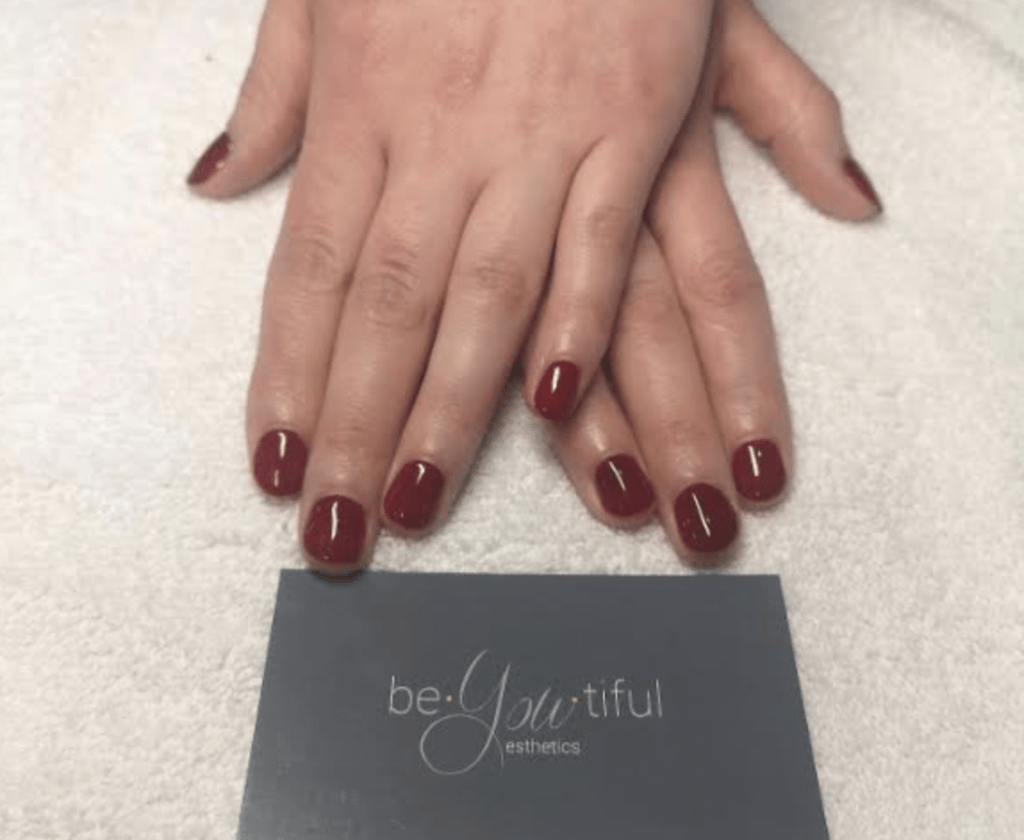 A Great handbag
This matters less these days BUT we still need to be out and about. A bright colored bag can be all the accent color you need in an outfit. Think about a second bag, perhaps more subtle in navy or a merlot tone. But if you really want to shake things up, look for a fun color or bright woven pattern.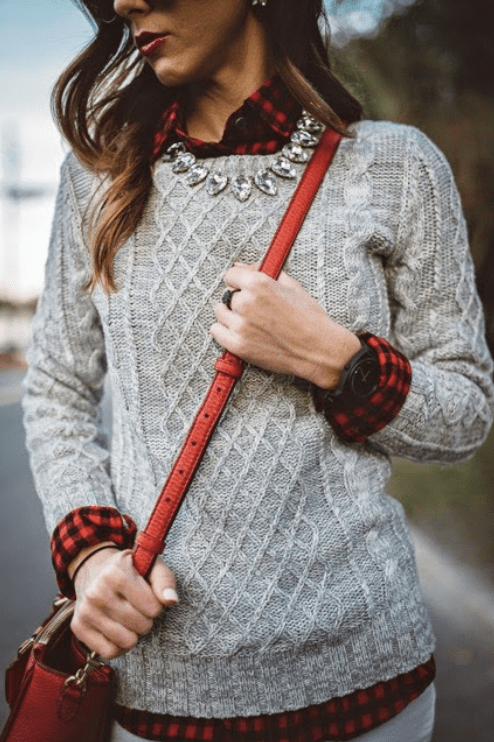 I hope some of these easy ideas speak to you as I know they will to your audience. The best part is you probably have the "fixings" right there in your wardrobe or at least you can use these ideas when looking to add something fresh and cheerful.

And you know, I do think less can be more. So promise me that you will start by looking through what you have.

As always, I would love to hear from you about the content, your ideas for topics I could explore, and I would love for you to leave a comment here on my blog.

If you are not already subscribed to my newsletter, you are missing out! Click here to sign up now to stay updated on special offers, webinars, workshops, and events.

Let us all stay safe, stay hopeful and know that this too shall end. ❤️

Hugs,

Sue